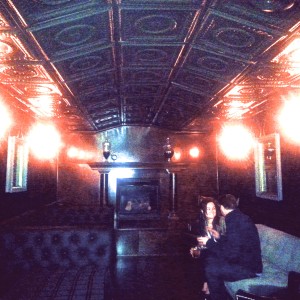 Oh, Alex Fletcher. You sneaky little dude.
There are so many reasons why you should drag yourself to tonight's benefit bash for Trigger's Toys at Henry's Majestic in Knox-Henderson – the five pop-up bars, for instance, and the fact that the whole thing benefits hospitalized kids. But here's one more: Mr. Fletcher is about to play the little ace that he's been holding up his sleeve.
Some were surprised when the craft-cocktail wunderkind announced he was leaving venerable Victor Tango's, and the bar program he'd helped lift to new heights, for Henry's, the latest venture in the curiously unfertile space at McKinney and Monticello.
True, he'd known owners Jim and Cindy Hughes of Bread Winners Cafe since his days at the cafe's adjoining Quarter Bar in Uptown. But still… "It's more of a leap forward for me," he told me just after the announcement. "It's going to open some doors."
Apparently those doors were more than figurative, because now it all makes sense: At Henry's, just like a Transformer, there's more than meets the eye. Turns out there's an unused nook or cranny or two that have been ripe for the renovating, and the space once home to Cretia's and Acme F&B has been – surprise! – a rabbit warren of bar potential.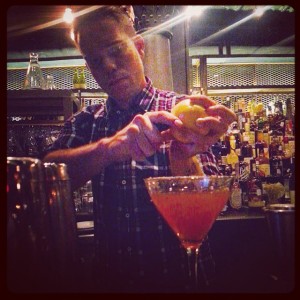 Welcome to Atwater Alley, a long narrow corridor behind Henry's kitchen – accessible on the Monticello Avenue side – that leads to a cozy, two-story den falling somewhere between modern Victorian and Old West saloon. Though larger, the dimly lit upstairs area is especially submarine-snug. And both stately back bars are a throwback; Fletcher thinks the upper one was actually shipped in from The Old Absinthe House in New Orleans. But incredibly, the space has sat here apparently unused for a decade — if it was ever used at all.
"This is kind of why I joined this whole team," the typically understated Fletcher says. "I knew there was something really cool back here. I was like, `Oh, okay.' It's like a playground."
It took a little work to revive, but the area is now ready to house two of tonight's benefit pop-ups – the & and & cocktail lounge and the Booty Bar and Half-Mast Tiki Lounge. (The other three will be in Henry's main bar area.)
For those unfortunate enough to miss tonight's event, Fletcher plans to keep Atwater Alley going from here on out every Thursday, Friday and Saturday. "It's a great little space," he says.