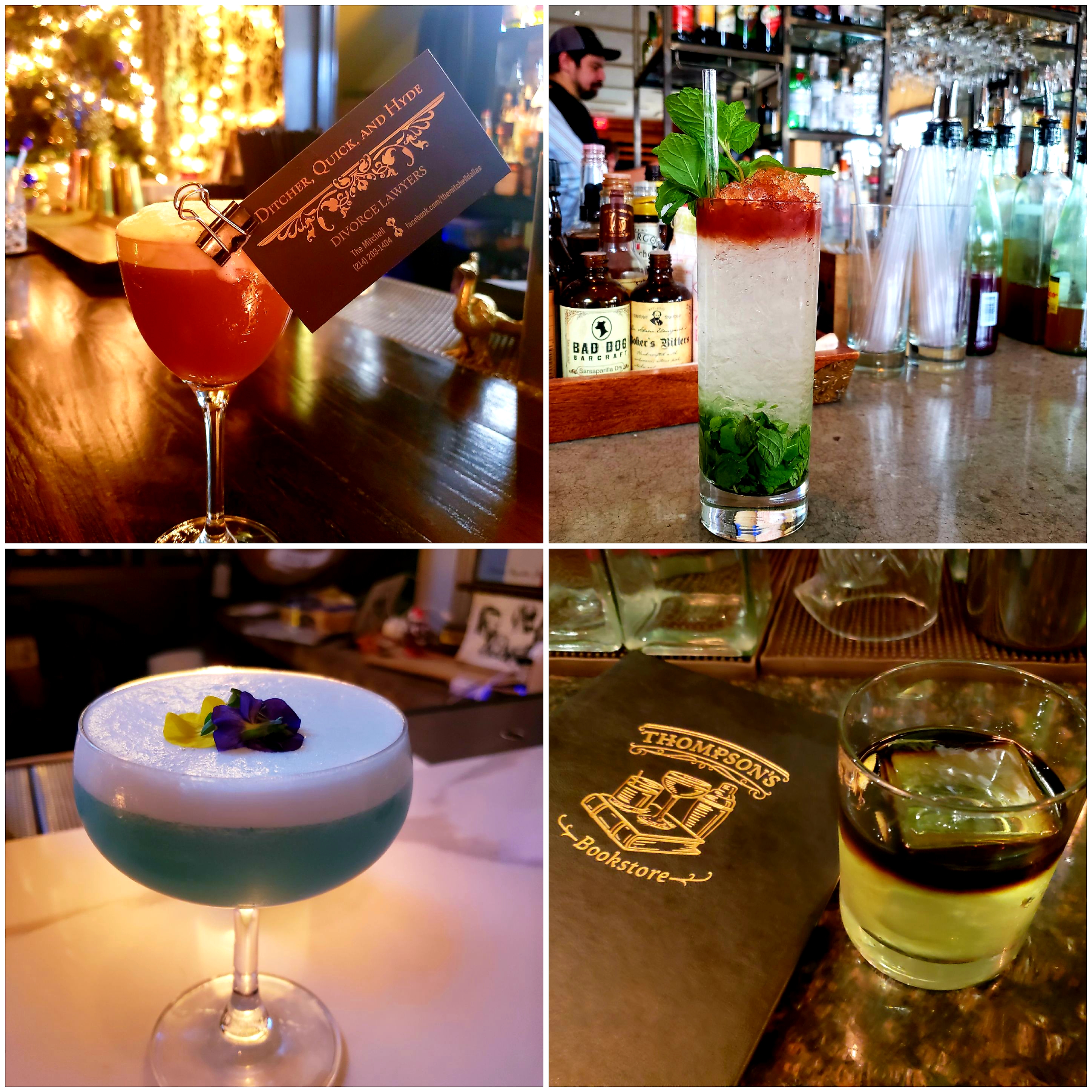 Housing prices are falling, the stock market is flailing, but if there's anything we can count on, it's craft cocktails: From Dallas to Lewisville to Frisco, from Fort Worth to Trophy Club to McKinney, imbibers in 2018 had an ever-growing bounty of riches from which to choose.
The scene welcomed new destinations like Ruins, 4 Kahunas, 3Eleven and Tiny Victories into the fold, along with solid cocktail programs at new restaurants like Macellaio, Sachet and Bullion in Dallas, and Local Yocal in McKinney. While trying to keep up with it all is a Sisyphean effort, some trends did emerge from within the fray.
This was the year of designer dessert drinks and aguardientes, or sugarcane-based spirits: Rum, the most common, was more widely implemented, and not just at 4 Kahunas, Arlington's legit new tiki outpost. With the thirst for new and unique liquors reaching ever farther into untapped regions, a pair of lesser-known aguardientes found footing in local cocktails – Oaxaca's fabulous Paranubes and Michoacan-based charanda.
It wasn't all sugarland, though: Singani 63, a gorgeous Bolivian brandy similar to pisco, and Italicus, the beautiful bergamot-flavored Italian aperitif, also made welcome inroads, while Spanish sherries flourished and Japanese shochu tiptoed on the fringes, most notably in George Kaiho's ingenious Earth Wind and Fire at Jettison, which teamed it with mezcal and Green Chartreuse.
Visually, bartenders went the extra mile to create drinks as photogenic as they were tasty, such as Griffin Keys' Let Me Clarify, a stunning Queen's Swizzle variation at Bishop Arts' Boulevardier; Matt Konrad's fernet-topped Witch Hunter at Thompson's Bookstore in Fort Worth; Ryan Payne's captivating Blu-Tang Clan at Tiny Victories; and at the Mitchell, Cody Riggs' tongue-in-cheek Bitter Marriage, garnished with a faux business card hawking the divorce firm of Ditcher, Quick and Hyde.
Cocktails were also a natural landing zone for turmeric, the "it" health ingredient of the year — for example, Wes Enid's Turmeric Daiquiri at Atwater Alley in Knox-Henderson. Meanwhile, bartenders more boldly employed nuttiness as a flavor – as in Jones Long's pecan-infused A Drink With No Name at Bolsa, or Kaiho's sesame-paste-enhanced Concrete Jungle at Jettison – and increasingly looked to tropical fruits like banana, mango, passion fruit and guava.
As always, the cocktail cornucopia was hard to narrow down, but these were my 15 favorite drinks of 2018.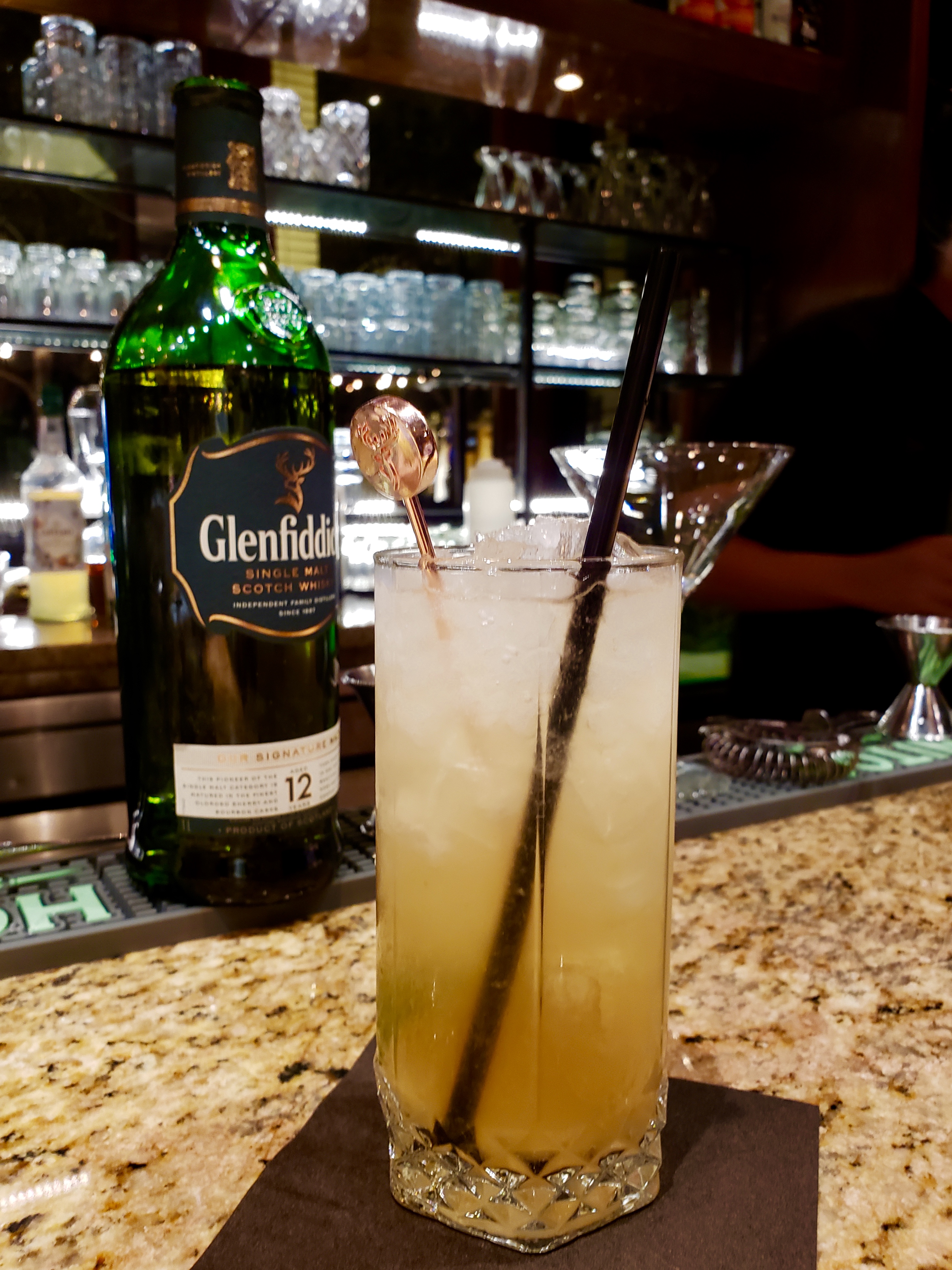 15. GAUCHO HIGHBALL (Daniel Guillen, La Duni, NorthPark Center)
Glenfiddich 12 Single Malt, Fernet, grapefruit soda
In the summer, the Speyside single malt Glenfiddich launched a campaign pushing its 12-year-old Scotch as the perfect vehicle for a whisky highball, a drink typically supplemented simply with club soda. But Guillen, beverage manager at La Duni, gave the drink Argentinian flair with a splash of Fernet – a darkly bitter Italian liqueur beloved in the South American nation – and a housemade grapefruit soda. "It's so simple, and yet so good," Guillen said. "You could drink a few of these, just like that." With Glenfiddich's rich pear-apple depths rolling over your palate, held in check by a pull of Fernet's bitter reins, you might tend to agree – especially at the ridiculous happy hour price of just $6 a pop.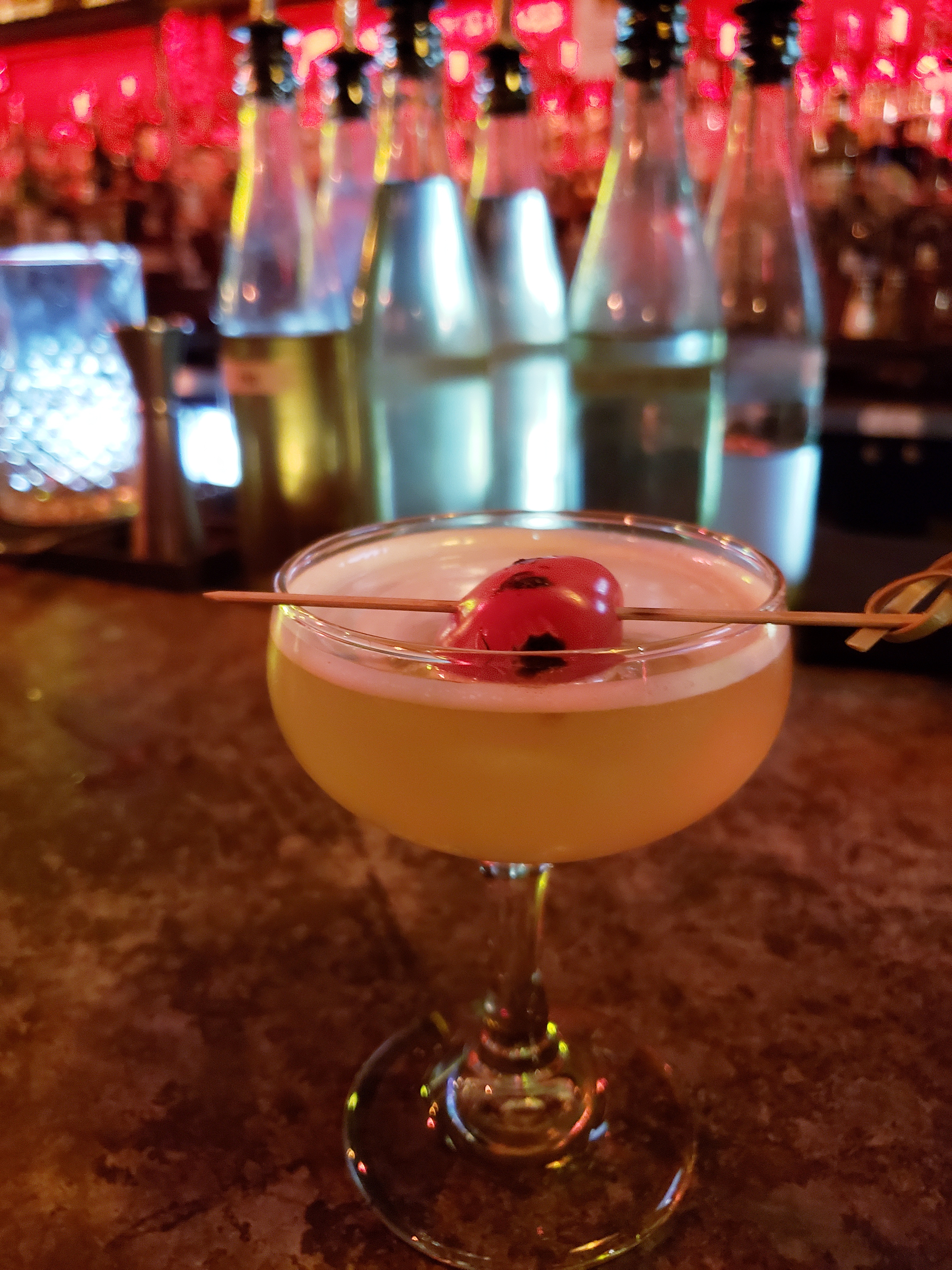 14. DUDLEY DO-RIGHT (Bar team, Brick and Bones, Deep Ellum)
Tomato-infused vodka, basil syrup, lemongrass water
It may be the hardest sell on the menu, but Dudley Do-Right is the low-key star of the Brick and Bones show, where every drink is named for a cartoon character. A delicately flavored triumvirate of tomato-infused vodka, basil syrup and lemongrass water, "it's like a Caprese salad" in liquid form, said bar co-owner Cliff Edgar. Simple, bright and refreshing, so nuanced is its touch that the vodka, typically content to be the vehicle for other flavors, actually shines in this one – completing a righteous drink worthy of its name.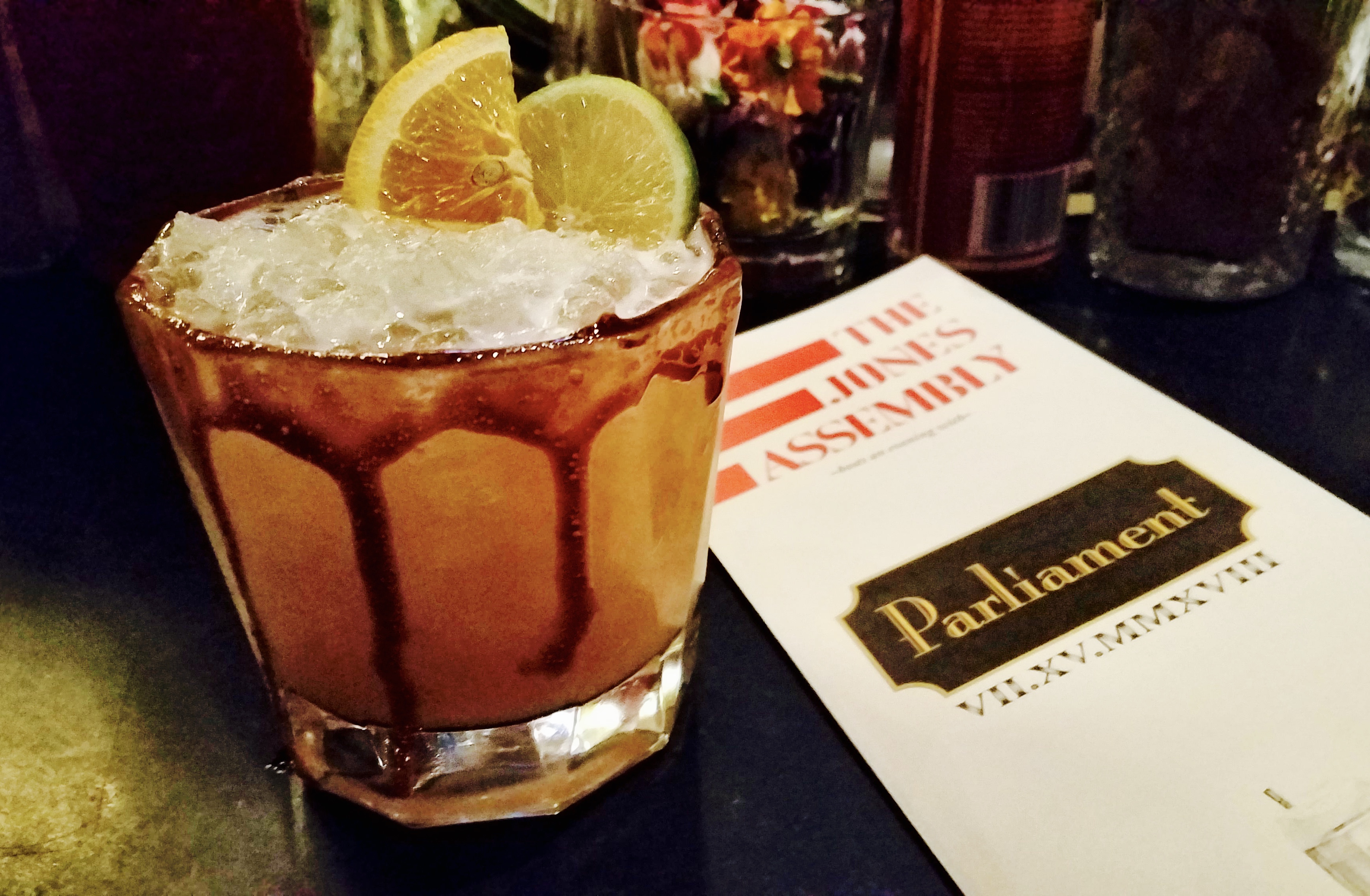 13. TAI OF SUM YUNG GAI (Eddie Campbell, Parliament, Uptown)
Pyrat XO Rum, lime, pineapple, ginger orgeat, soy sauce reduction
This one's a bit of a cheat as it was rolled out at Parliament's one-night pop-up fundraiser at Oklahoma City's Jones Assembly in July. The event was pure Parliament, with a half-dozen bartenders making the trip along with a dazzling 21-drink menu. (Pop-ups typically sport no more than half a dozen.) "We wanted to keep it low-maintenance," quipped bar owner Eddie Campbell. The lineup included this deliciously innovative tiki blend of rum and citrus tanged up with a ginger orgeat, then rimmed with a soy sauce reduction. Think sweet tropical meets salted caramel and you get the idea.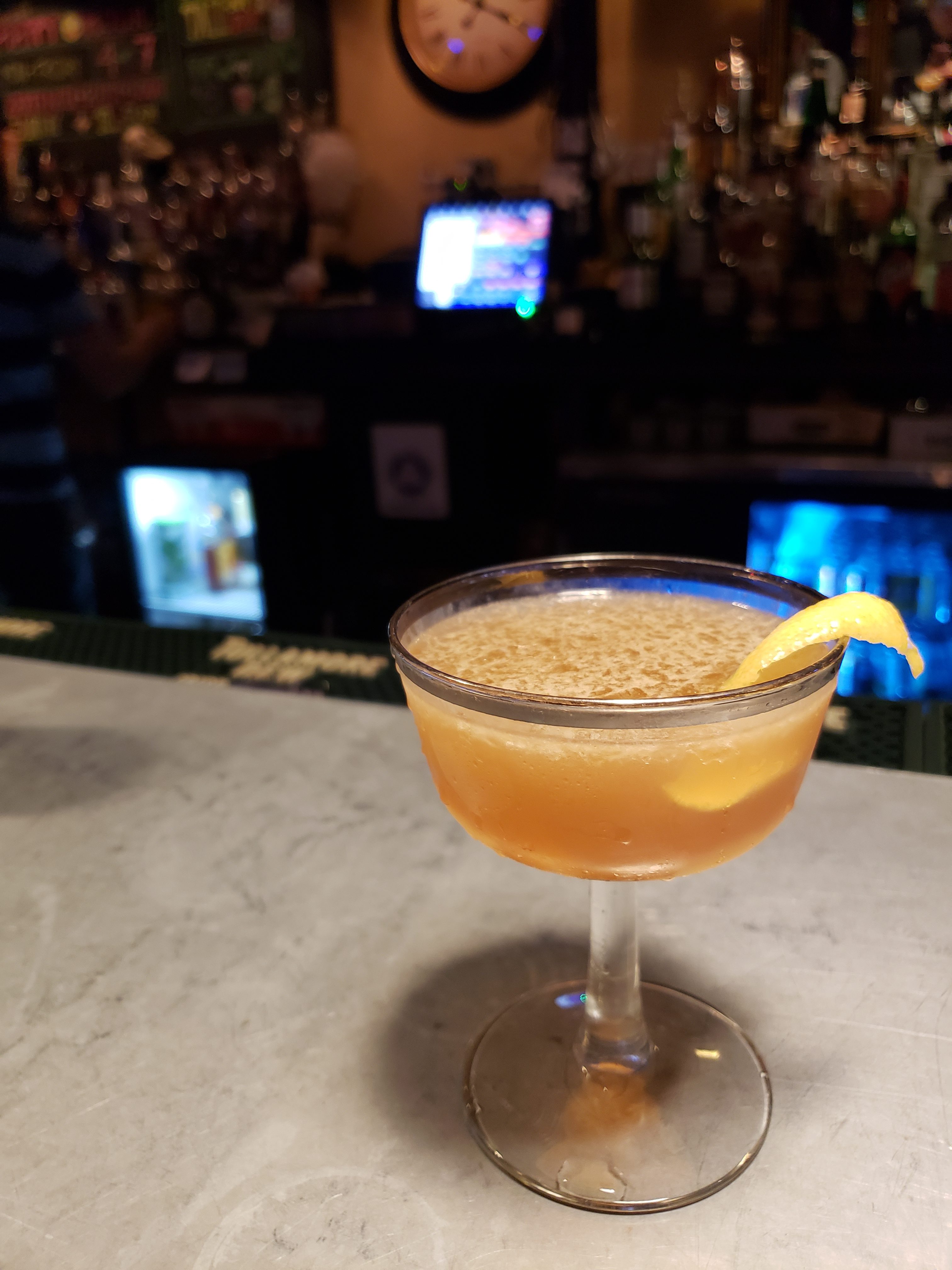 12. THE QUEEN IS DEAD (Tommy Fogle, Industry Alley, The Cedars)
Sherry, orange curacao, Licor 43, lemon
At Industry Alley, the low-key cocktail haven in Dallas' Cedars neighborhood, bartender Tommy Fogle found his groove with liquorous treats like the Golden Mylk Fizz, a creamy riot of honey, coconut and turmeric, and the Boys Don't Cry, a bitter spin on a cocktail from New Orleans' Cure (hence the name). But my favorite of all was The Queen is Dead, a sherry-forward jewel that adorned the fortified wine with a wreath of lemon, orange curacao and Spanish vanilla liqueur, unleashing a citrus-grape tang that zipped across your palate like Zeke Elliott headed for the goal line.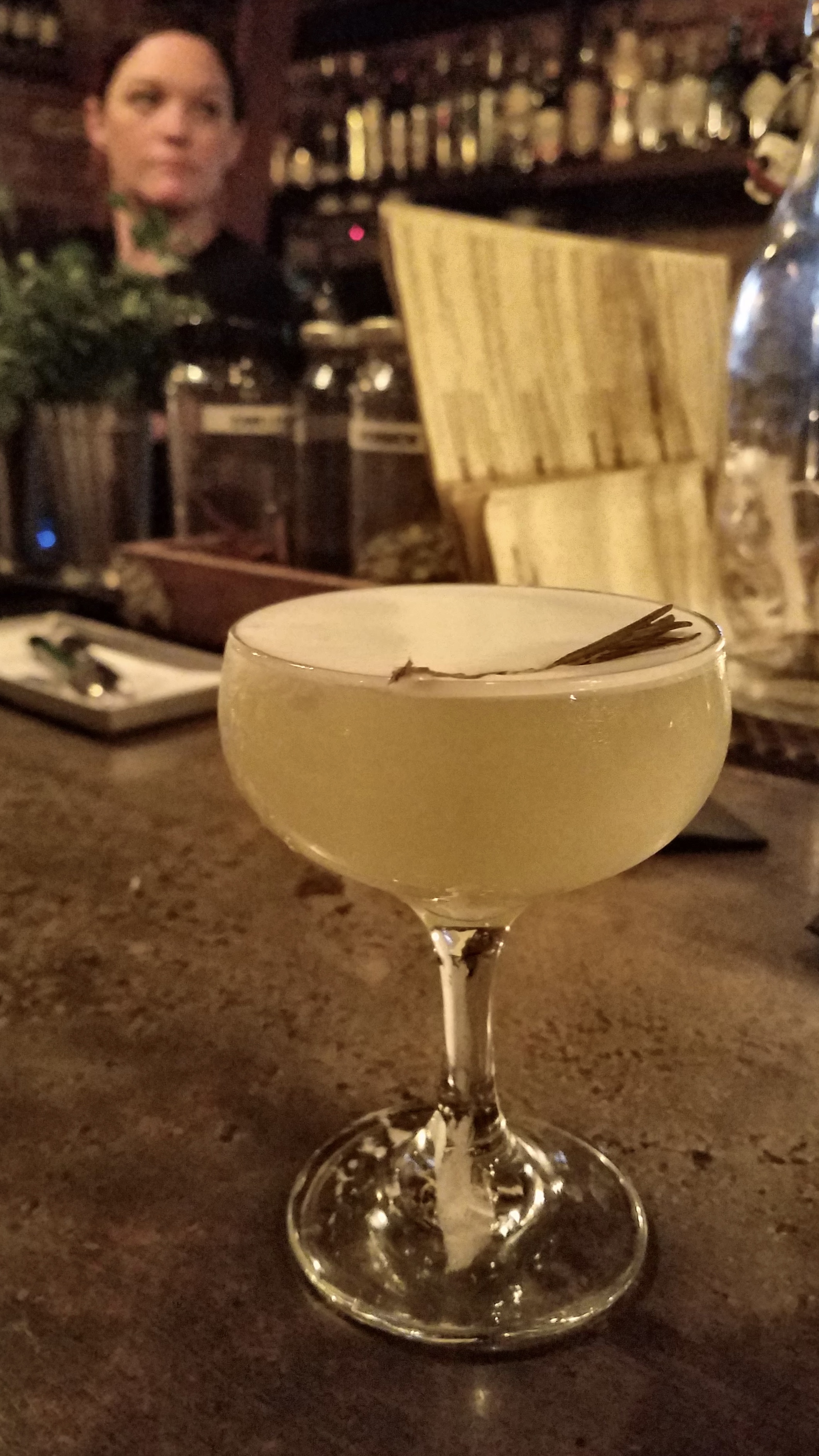 11. GREENER PASTURES (Cody Barboza, Armoury D.E., Deep Ellum)
Pisco Porton, Green Chartreuse, Luxardo maraschino, rosemary, lime, egg white
Armoury's got a thing for Pisco Sour variations, which is fine with me, because so do I. Having already produced the Hungarian-influenced Speak of the Devil, which showed up on this list two years ago, the Deep Ellum bar this year introduced Barboza's Greener Pastures, more fragrant and floral with a sprig of smoked rosemary. The herb's aromas were just muscular enough to cap the cocktail's botanical brawn.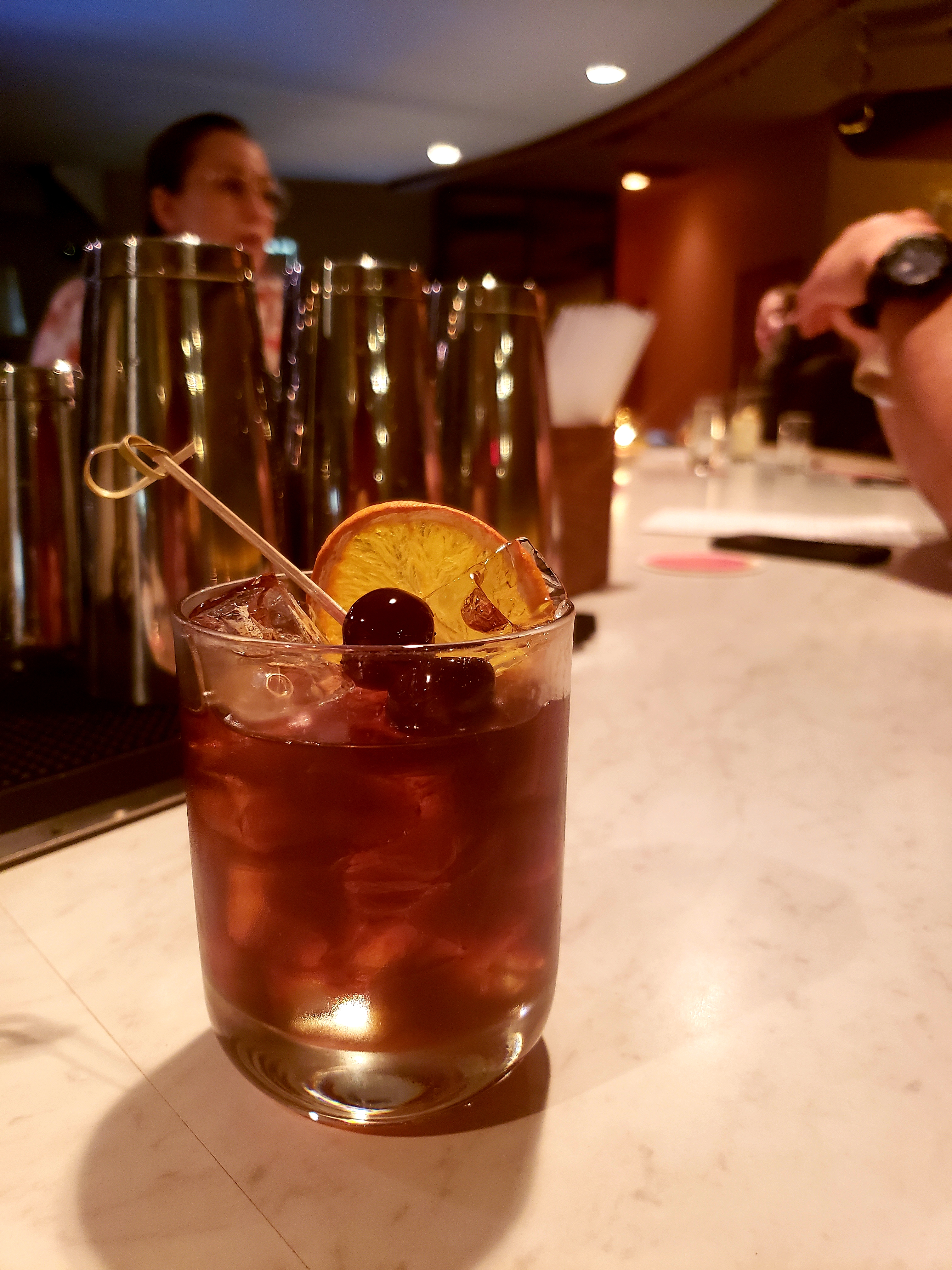 10. OLD SPICED (Jones Long, Lounge Here, East Dallas)
Coffee-infused bourbon, crème de cacao, Fernet Branca, mole bitters
Jones Long, formerly of Oak Cliff's Bolsa and Ruins in Deep Ellum, took over the bar program at East Dallas' Lounge Here earlier this year. She took to her new role with aplomb and creativity, even fashioning faux olives from pickled grapes in her Don Vito, a riff on the classic Godfather. But my favorite was the Old Spiced, a hearty handshake of a drink that was not unlike biting into a bar of spicy dark chocolate, only more refreshing. It's so satisfying that I can't even be annoyed that every time I order it, I'm reminded of the Old Spice commercial jingle.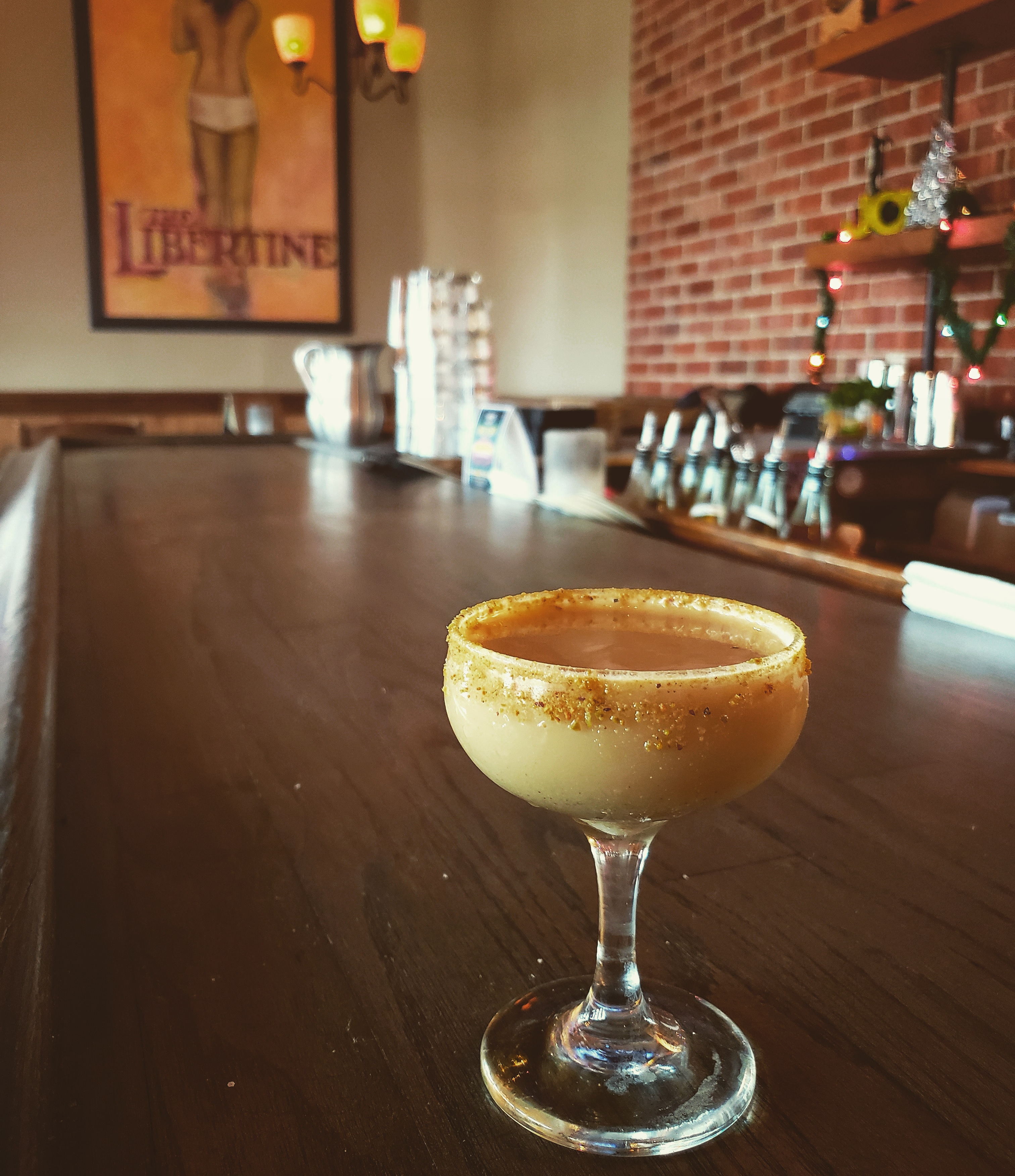 9. FIDELIO (Daniel Zoch, Libertine Bar, Lower Greenville)
El Dorado 12 Rum, Amaro Montenegro, pistachio paste, orange juice, egg white, salt, pistachio dust
The Libertine, on Lower Greenville, was one of Dallas' early craft mainstays thanks to former bar manager Mate Hartai (now with spirits producer The 86 Co.), and while its cocktail program might not get much attention anymore, it's still going strong with seasonal drinks like Daniel Zoch's Fidelio. A dessert-like dance of sweet rum, delicately bittersweet Amaro Montenegro and pistachio, rimmed with ground pistachio dust, the Fidelio is creamy, nutty and lush, with just enough bitter to give it a lovely, nuanced finish.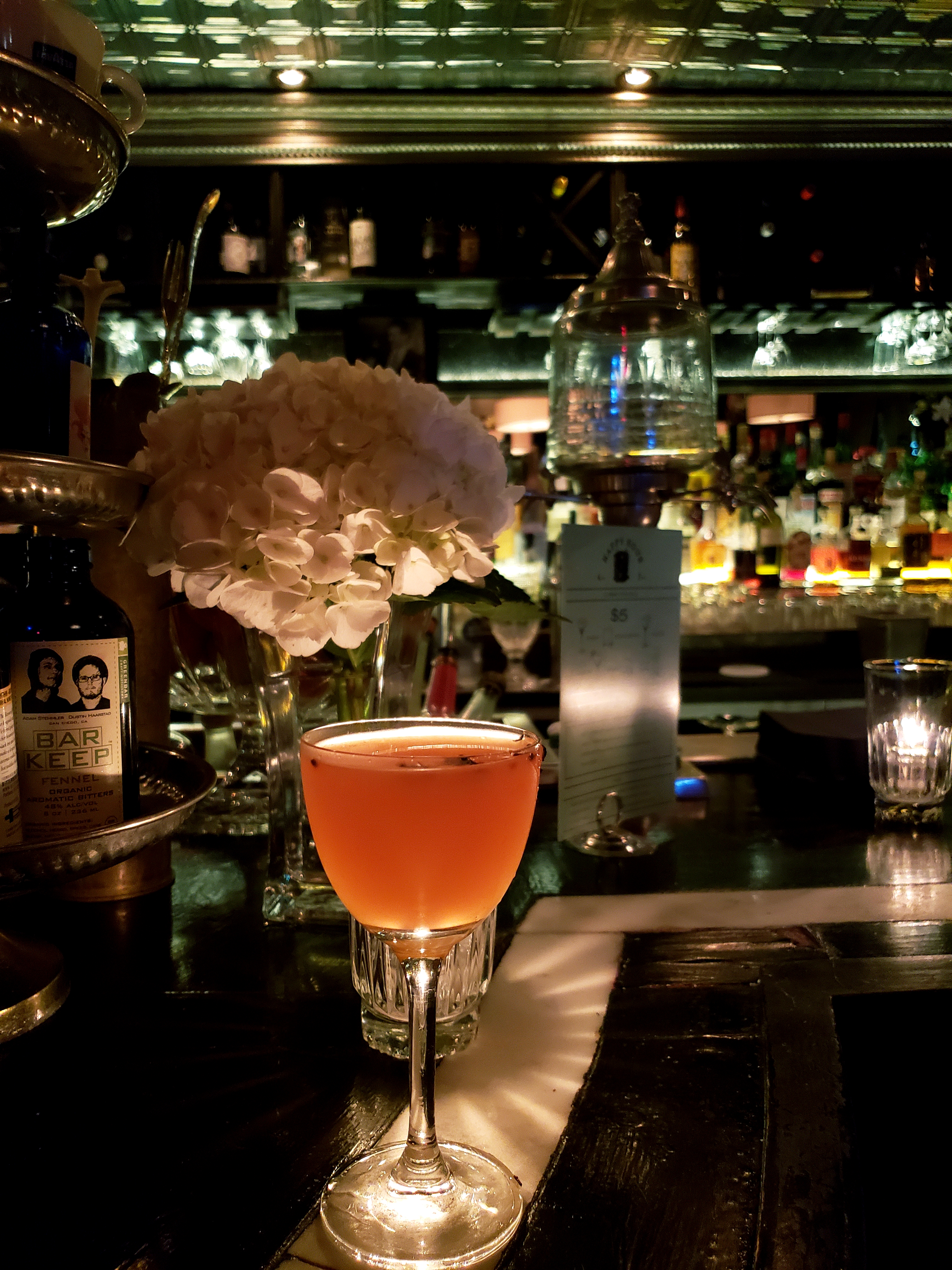 8. PUESTO DEL SOL (Kayla McDowell/Greg Huston, Bowen House, Uptown)
Espolon blanco, muddled roasted red pepper, rosemary syrup, lemon, black pepper
It's a joy to listen to McDowell and Huston brainstorm behind the bar, and this savory concoction was one of their many menu collaborations, pairing slightly fruity tequila with roasted pepper for a gently spicy sipper of a cocktail. Peppery citrus on the nose paved the way for a rosemary-forward body and a finish that complemented the drink's aromas. Looking forward to seeing what this team comes up with in 2019.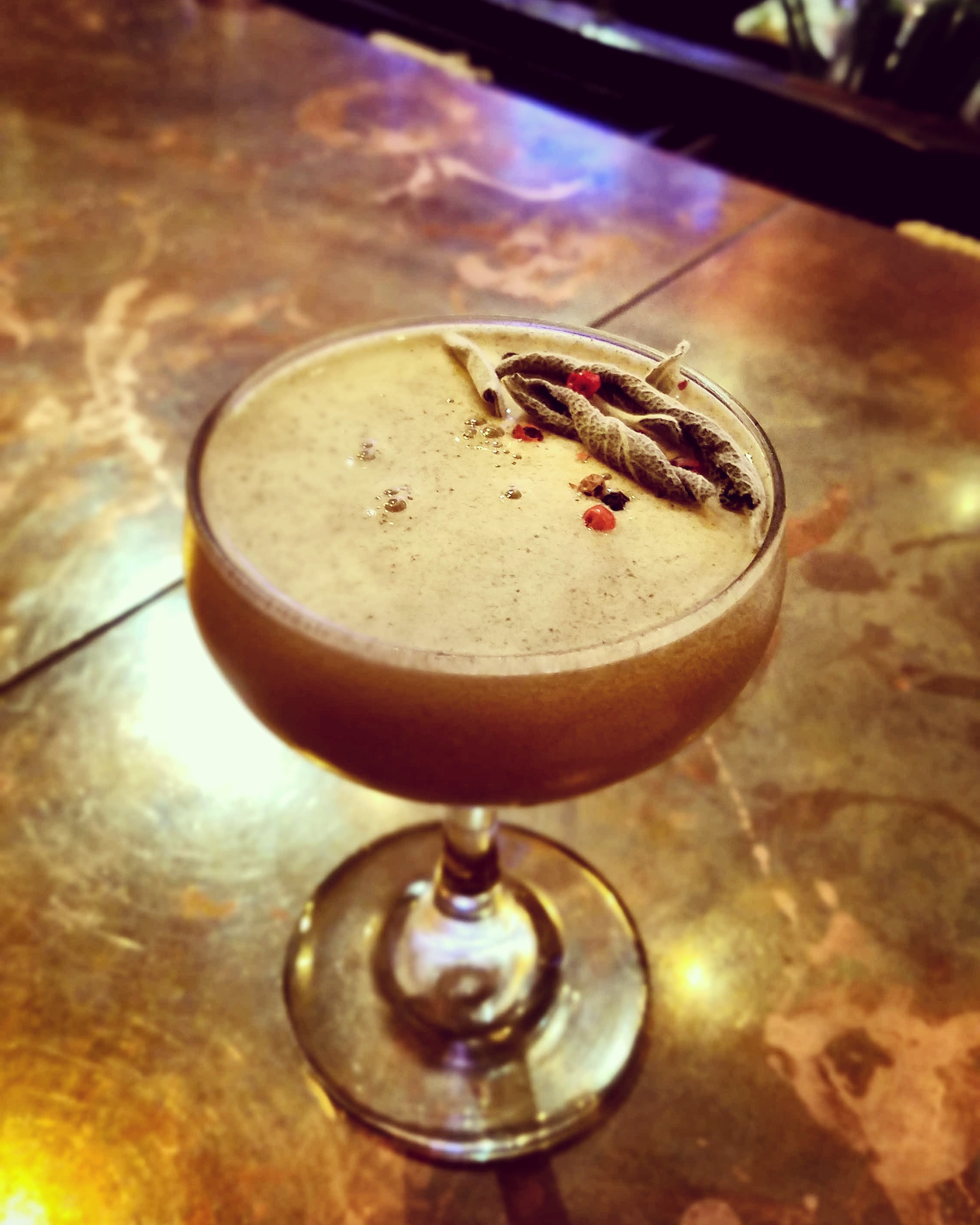 7. GRITO! (Henry Mendoza, The People's Last Stand, Mockingbird Station)
Mezcal, lime, pink/black peppercorn syrup, agave, sage, Boston Bittahs
Mendoza's Grito had me aay-yai-yai-ing like a joyful mariachi – the sound of which the drink's name recalls. The first of several libations Mendoza devised in tribute to Pixar's Day-of-the-Dead-themed Coco, its cool but fiery mix of smoky mezcal and sage, peppercorn syrup, agave and bitters was an otherworldly journey through smoke and citrus spice. Topped with a sprinkling of red peppercorn and cigarillos of dried sage, its pachanga-in-your-mouth mix of pepper and chamomile/citrus bitters was what made this spicy number shine.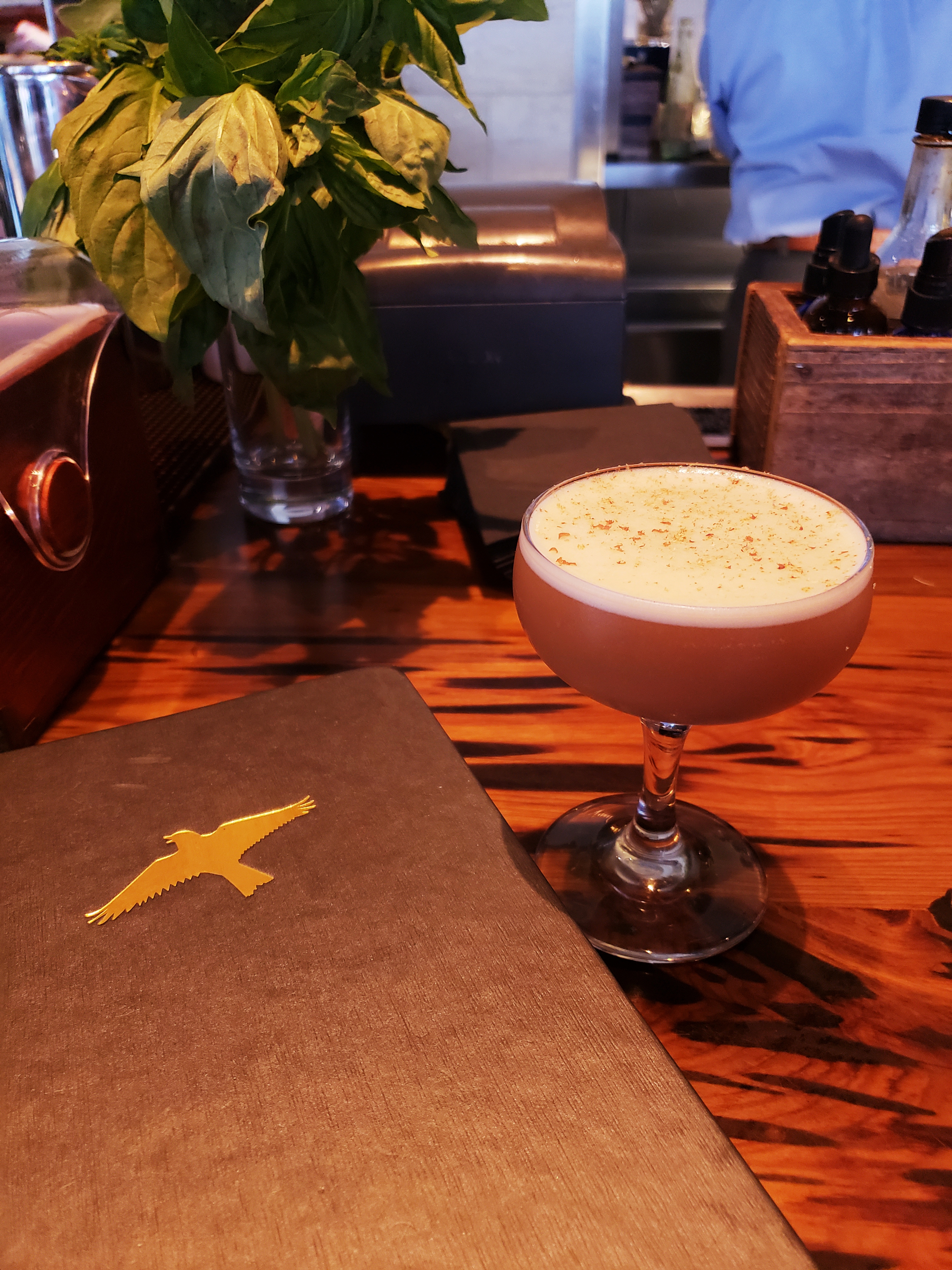 6. NUT HOUSE (Josh Brawner, LARK on the Park, Downtown Dallas)
Flor de Cana 7-year rum, Don Ciccio & Figli nocino, Tempus Fugit Crème de Banane, walnut bitters, nutmeg
Hey LARK, it was real: Shannon Wynne's airy, chalk-art-bathed restaurant shuttered before year's end, but not before its bar program had returned to the glory of its opening days. Bar manager Josh Brawner's Nut House was a standout, inspired by his love of banana nut bread. "I'm a foodie, so I always try to replicate things in my drinks," says Brawner, now at Wynne's Meddlesome Moth. Built on aged rum, the Nut House was a liquid treat, festive and nutty, awash in walnut and banana liqueurs with a dash of walnut bitters to boot; a shaving of nutmeg added flattering aromatics.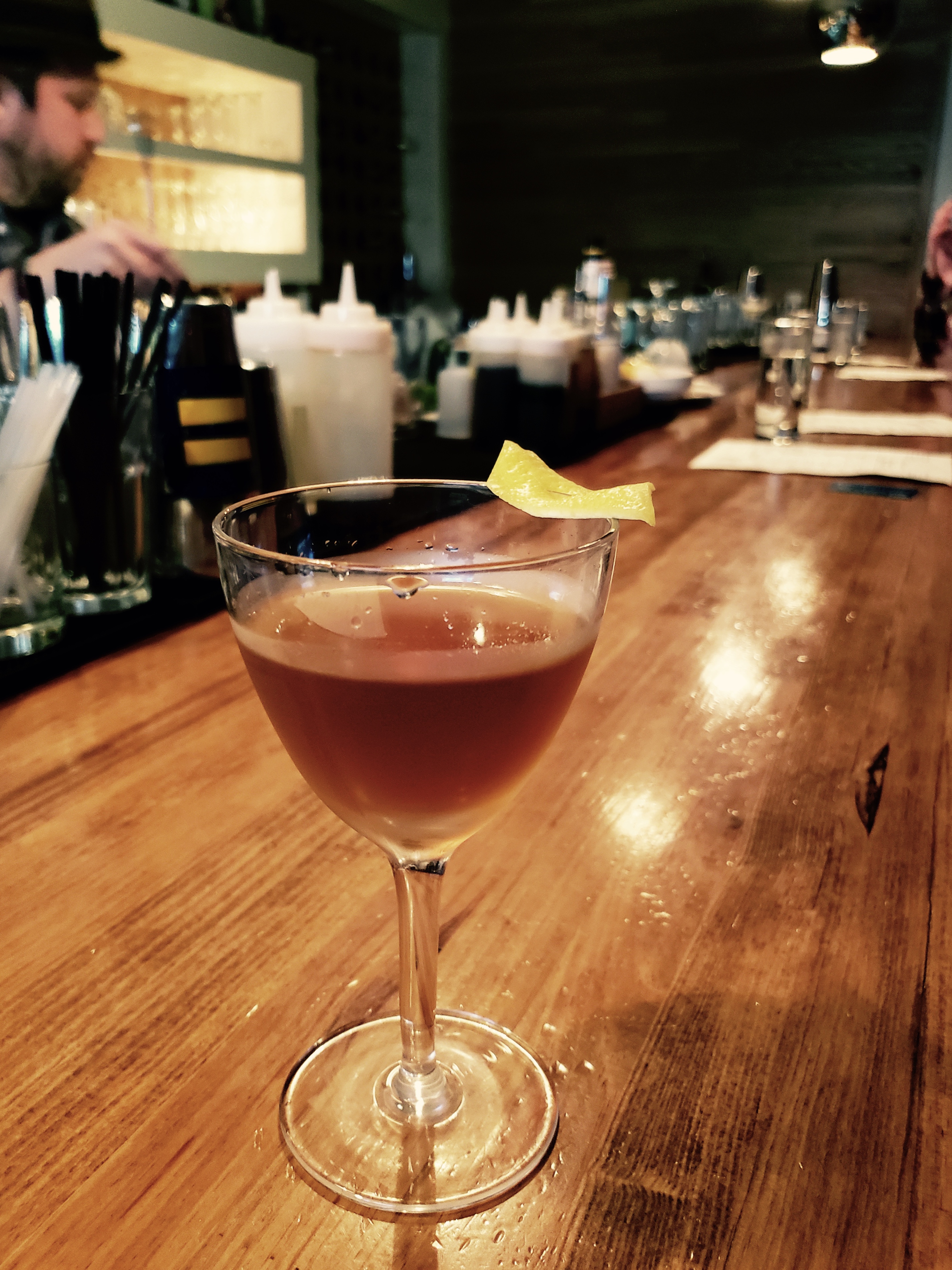 5. AUTUMN IN BRAZIL (Jason Pollard, The Usual, Fort Worth)
Avua Amburana, sherry, Cocchi di Torino, demerara syrup, saffron bitters
A couple of years have passed since cachaca, Brazil's national spirit, enjoyed a brief moment in the DFW sun, but thankfully The Usual's Jason Pollard hasn't let the spirit's grassy, banana-fruit magic slip into obscurity. His Autumn in Brazil takes Avua's aged Amburana cachaca and balances its notes of caramel, vanilla and spiced bread with the rich nuttiness of sherry, rounding it out with sweet vermouth and caramel-esque demerara syrup. With hints of raisin, chocolate and cinnamon and the aroma of musky grapes, it's a sensational seasonal sipper.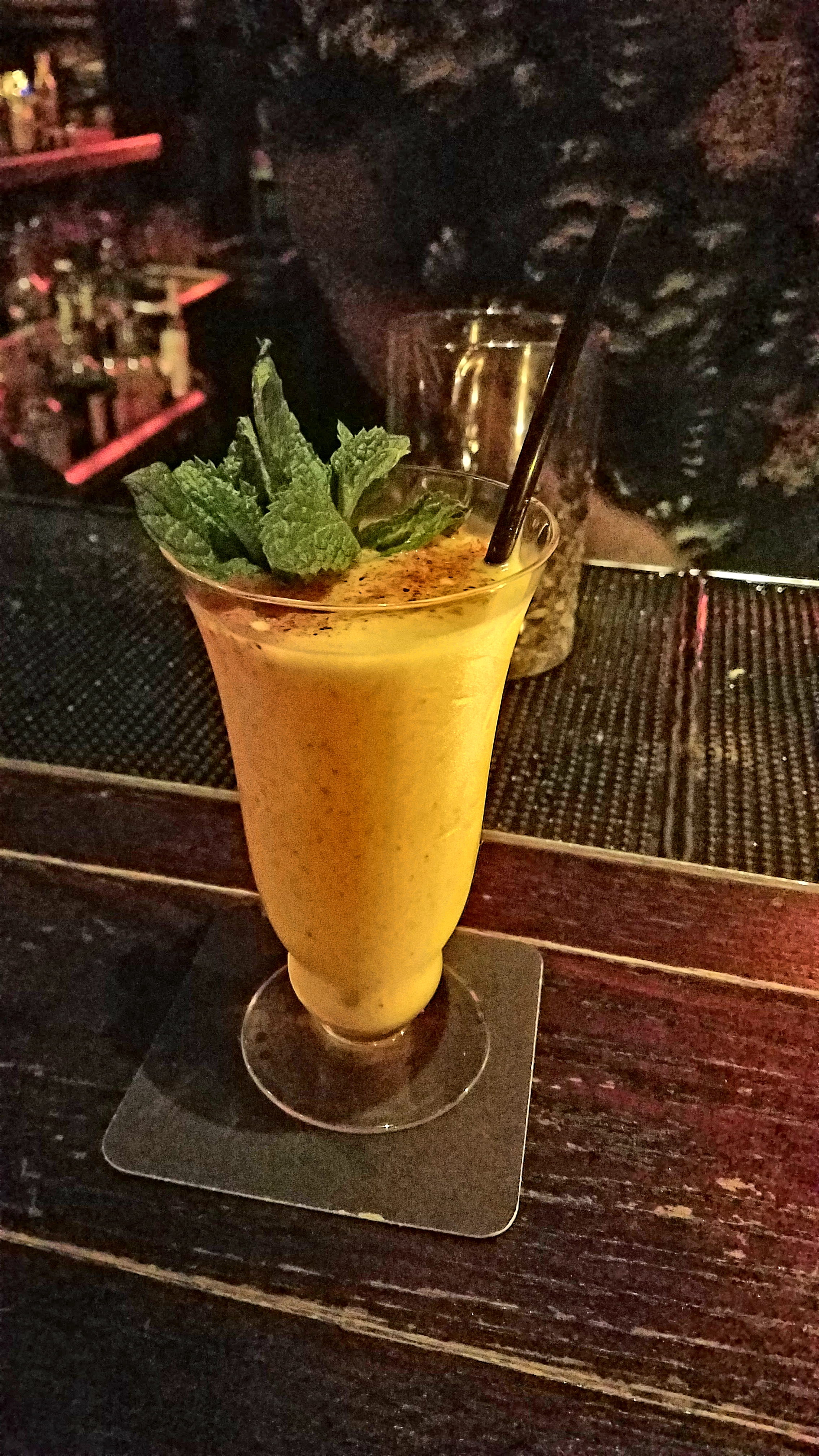 4. MANGO LASSIE (Jesse Powell, Parliament, Uptown)
El Dorado 5, citrus, mango, yogurt, honey, tajin
On a trip to Chicago's Pub Royale – an Anglo-Indian-style tavern – earlier this year, Powell discovered the wonder of the mango lassi, India's traditional mango milkshake. Naturally, as he savored its mix of yogurt, mango, milk and sugar, he thought to himself: How can I make this into a cocktail? Luckily for Dallas, he came through like a champ, structuring its viscous, sour-sweet depths atop a foundation of rum and garnishing the Creamsicle-orange drink with cool mint and a clever rim of Mexican tajin, the chili powder often gracing that country's mango street snacks. Poured over crushed ice, it was a tasty summer refresher that I still craved in the cold of winter.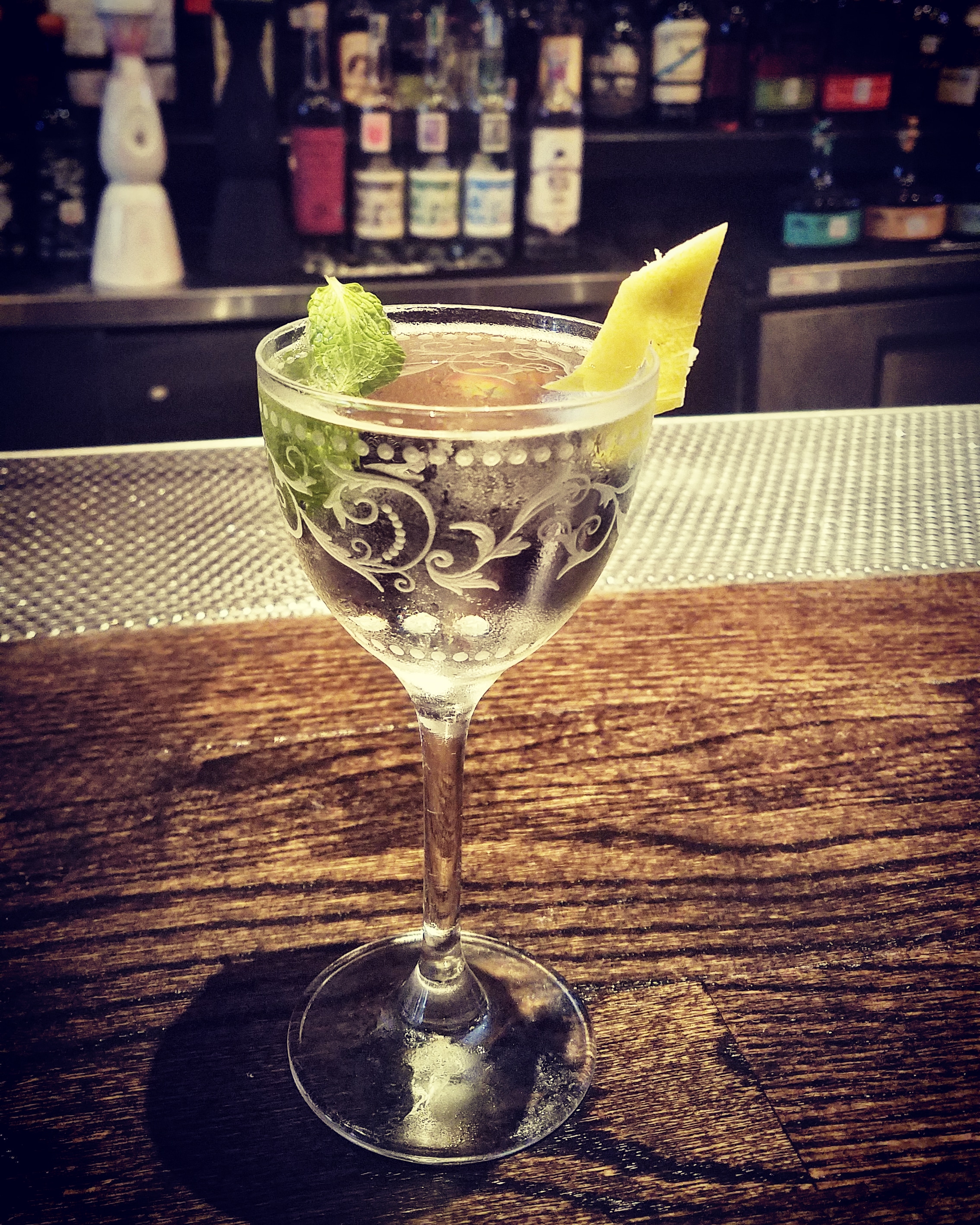 3. MONKEYING AROUND (Sam Gillespie, The Mitchell, Downtown Dallas)
Gin, Chareau, Genepy des Alpes, Dolin Blanc
Gillespie originally crafted this exquisite spring cocktail for a special event at the bar featuring Monkey 47, a berry-influenced gin made in Germany's Black Forest. He accentuated its flavors and feel with rich aloe liqueur, herbal alpine liqueur and dry vermouth, but the gin's high price-point made it impractical to put on The Mitchell's standard menu. Instead, he substituted standout Botanist gin, serving the drink in a clear patterned glass that highlighted its see-through appearance. With herbs and white grape on the nose, it's a gorgeously botanical Martini – all cucumber, spearmint and sweet spice and an herbal sweet-sour finish.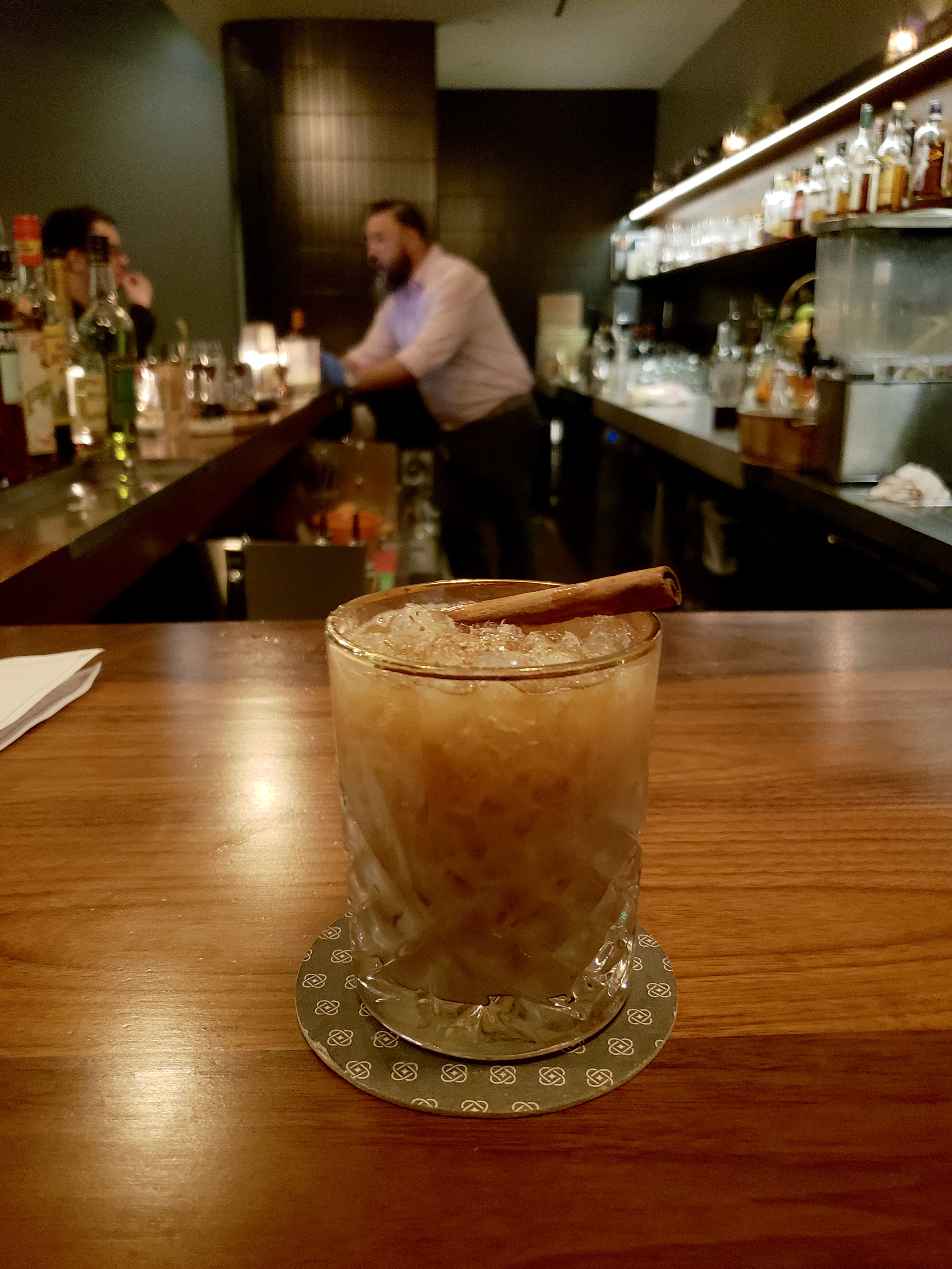 2. SLEEPY COYOTE (George Kaiho/Andrew Kelly, Jettison, West Dallas)
Coffee-infused Paranubes, cinnamon syrup, Ancho Reyes, horchata
Kaiho and Kelly, the personable one-two punch behind the bar at Jettison, wanted to create a cocktail using horchata, the Mexican cinnamon rice milk. Specifically, as a popular after-dinner destination, they wanted to craft a dessert drink, so as fans of The Big Lebowski they devised this buzzy riff on a White Russian, using a base of banana-funky Paranubes – a Oaxacan aguardiente – infused with coffee, cold-brew style. To that they added cinnamon syrup and a splash of spicy Ancho Reyes liqueur, then poured it over crushed ice for a rich cinnamon coffee with a kick.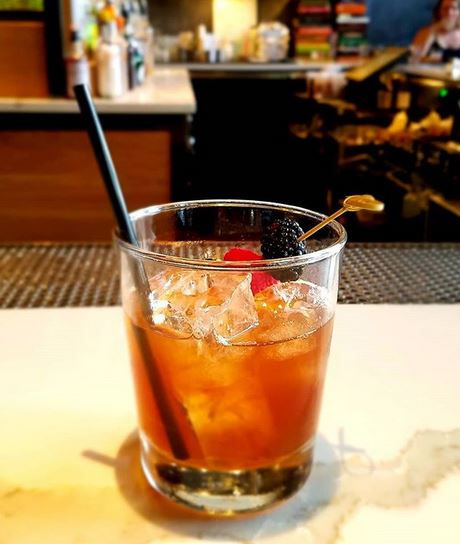 ALPINE BLUES (Scott Jenkins, Hide, Deep Ellum)
Singani 63, Pasubio amaro, Cap Corse quinquina, Nux walnut liqueur, clarified lemon
Scott Jenkins, Hide's resident mixmaster, killed it again this year: The Oaxacan Shaman, his mezcal-aguardiente mashup, was masterful, and Quest for the Sun, a sunflower-seed-infused vodka vehicle, was lusciously butternutty. But my favorite of all was his Alpine Blues: He missed the mountains, see; a whirlwind trip had filled him with memories of brisk, chilly air and damp ground covered in foliage. He let his longings inspire this wonderfully balanced reflection of nature's growth. In his mind, walnut liqueur formed the base soil, deep and rich with decomposing nettles; blueberry-influenced alpine bitter liqueur was the surface – "earthy and fruity; there's still some life in it;" a quinine aperitif and clarified lemon juice were the new growth, with the bitter citrus of biting into a young stem; Singani 63, a botanical Bolivian brandy, was the blossom. "There were specific slopes and colors in my mind," he says. "It made me have the blues not to be there."