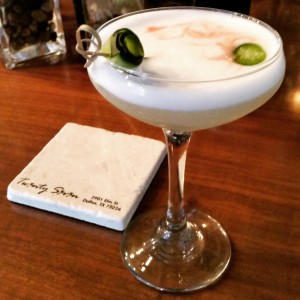 In Twenty Seven, I found Nirvana. And the Doors, Joplin and Hendrix, too. The recently debuted Deep Ellum restaurant from "underground dinner" purveyor David Anthony Temple has been open barely a month, but it's not just the food that may take a little piece of your heart.
Twenty Seven's compact bar, with barely a handful of stools, assumes the spotlight late Saturdays when the place burns the midnight lamp as XXVII Antique, with live lounge music from 11:30 pm to 2 am. But with a solid, just-launched cocktail menu from bar manager Moses Guidry, it shouldn't be overlooked anytime.
"It's a classic cocktail menu to go with the mystique of the place, the energy," says Guidry, who works most nights at the Front Room Tavern at the Hotel Lumen near SMU. "(Twenty Seven) definitely has that classic, speakeasy vibe."
The restaurant operates Thursday through Saturday, with four tasting menus and two seating times nightly. The space nicely reflects Temple's animated, stylishly gonzo personality, from the dining room's vintage touches to the barrage of art paraphernalia honoring rock icons Jimi Hendrix, Jim Morrison, Janis Joplin and Kurt Cobain – all lost to the world at age 27 – in the restrooms and adjacent corridor.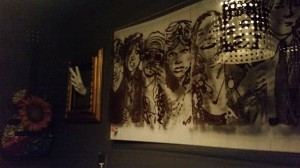 Aside from a classic Old Fashioned and a slightly altered Aviation, Guidry's drinks are off the beaten path, appealing to the earnest imbiber. Vodka is nowhere to be seen. Instead, there are variations on lesser known gems like the martini-esque Ford Cocktail and the A La Louisiane, a cousin of the Vieux Carre.
Guidry's Smoke Ring, an agave-based spin on the Pisco Sour, is especially notable. Subbing mezcal and tequila for milder pisco, it enlivens the standard mix of simple syrup, lime, egg white and bitters with bracing cucumber. Cool and smooth with the faintest bit of smoky heat, it's offered with a swirl of Peychaud's bitters and a sea-salt-sprinkled jalapeno coin to entertain the eyes and nose. "It's just a great way to introduce mezcal to people who haven't had it or who think it's too intense in other cocktails they've tried," Guidry says.
The hardy A La Louisiana is another standout, pumping up the rye quotient and adding chocolate bitters to A La Louisiane's classic formula of Benedictine, sweet vermouth and a bit of absinthe. The shade of summer tea, it breathes of orange peel and cocoa, with a warm rye finish tame enough to break on through to most palates. "I'm not a bourbon drinker, but I could drink that," said the foxy lady sitting to my right.
Less successful during one visit was the Night Rider, a bold after-dinner-style cocktail that marries the herbaceous French bitter liqueur Suze with an espresso-infused Cynar (an Italian artichoke-flavored bitter) and an attending party of vermouth, orange juice, egg white, vanilla extract and chocolate bitters. However, its potential was lost in a purple haze of aggressive coffee.
The list also features the Ford's Cocktail, a blend of the longstanding Ford and Vancouver cocktails, but done with Ford's gin; meanwhile, the Aviation sports the sweet Luxardo cherry liqueur and eschews the usual lavender Crème de Violette altogether. In all, there are 10 drinks on the menu, but that will grow by several in the coming weeks and rotate when called for.
"We're going to keep it seasonal," Guidry says. "David's got the freshest ingredients in the kitchen, so clearly we're going to use those at the bar as well."
The drink list currently stands at nine but in time will likely hover around a dozen.  Among the additions will be the Purple Reyes, which will light your whiskey fire with bourbon, ancho chile liqueur, Cynar, cherry liqueur and chocolate bitters.
Excuse me while I kiss the sky.