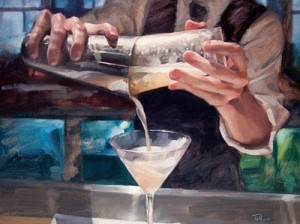 Do you fancy yourself a Cointreau Renoir? A Picasso of Prosecco? Or do Salvador's surrealist images simply drive you to drink?
Then you're in luck: Tonight, the Dallas Museum of Art is kicking off its first-ever Creative Cocktail Contest.
At stake is a DMA partnership – and the chance to be featured at the museum's Late Night event in January. The museum's Late Night series takes place on the third Friday of each month.
Here's how the contest works: Go check out the museum. Choose a work of art from the collection that, um, touches you. Maybe it's the drawings of Robert Rauschenberg, or the Big Apple photography of Berenice Abbott, or as is currently on exhibit, the modernist jewelry of Art Smith. (By the way, am I the only one who finds it confusing when guys named Art actually do art?) Whatever.
Then, once you've pinpointed your mixology muse, come up with an original cocktail recipe inspired by this artistic work. Create a name for your drink – maybe Nighthawk, or Rumbrandt, or Bourbon Landscape. Use your imagination.
Finally, submit your cocktail recipe, and the name of the artwork that inspired you, to publicprograms@DMA.org by 5 pm Monday, Dec. 1.
Then, wait a month as DMA staff – those lucky art types! – and the museum's executive chef – ahem –  test the recipes. Because that's what good art museum staffers do. A winner and four finalists will be named on Jan. 5.
The contest is a precursor to the next installment of the museum's Fresh Ink series, which features authors and their newly published books. Tim Federle, author of the book Tequila Mockingbird, will be at January's Late Night event to promote his new book, Hickory Daiquiri Dock: Cocktails With A Nursery Rhyme Twist.
"We wanted our visitors to get involved in this fun way," said Stacey Lizotte, the DMA's head of adult programming and multimedia services. "January is also our birthday month and we treat it as a birthday celebration. Why not toast the museum with some fun cocktails?"
In addition to receiving a DMA partnership, the contest winner will have his or her drink featured as the main drink on the Atrium's special menu at DMA's January Late Night event. Each finalist will also get a special menu nod and a signed copy of Tequila Mockingbird.
"We're excited to see our visitors' creativity," Lizotte said. "The entire collection is open to them. Whatever work of art will inspire a great cocktail."
What are you waiting for? You have nothing Toulouse-Lautrec.
Contestants must be at least 21 years old. Full contest details are available here.
And if your creative muse just isn't speaking to you and you just want to see some cocktail-related art, you can always check out California artist Matt Talbert's cool assortment of cocktail-related art, where I found the image above.